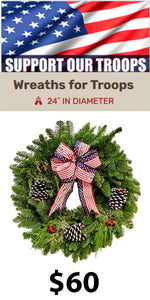 Wreaths for Troops $60
[ Deadline for these wreaths is November 20th ] 
Wreaths for Troops are handcrafted using Noble Fir boughs. They are accented with incense cedar, blue-berried juniper, red berries, frosted pine cones and a patriotic bow. This is a donation-only item.
Fantastic Program
This is the perfect way to support Tar Football and enjoy the freshest trees & wreaths possible, great experience!
SUCH a great program!!!
It's a "Win-Win" !! For those who don't need a tree, it's a great opportunity to still be able to donate much needed money for the Sailors Football Program, and at the same time do something wonderful for our amazing military families! Keep it up! Thanks, The Harmons
Fantastic program!
Really appreciate the connection between the NHHS Sailors and our Military Heroes. This is a great opportunity to support both!
Christmas gift
I was pleased to have this opportunity to give a gift to a military family.
Christmas tree
What an absolutely delightful experience! I bought my tree from Ethan,? (He has a brother who is equally delightful) . He was selling them up at the entrance to Dover Shores. The tree was delivered by some players . This is the freshest tree I have ever gotten! I did donate for a tree to a military family. What a great idea to do that! NHHS football rocks. Thank you thank you!
Good experience!
The trees were beautiful, and very easy to order.
Best tree ever!
Freshest, most beautiful tree! Only negative is I wish delivery could have been one week earlier...the latest I have ever put up my tree.
Keep Supporting Our Troops
I bought a tree for a military famiy. I have seen the tree my daughter bought for their home and I was so amazed at the beauty of the tree. I think this was a great fundraiser for the team and a good way to support our troops!