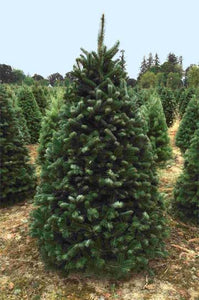 Nordmann Fir Christmas Tree
[ deadline EXTEDNDED to order is November 12th - midnight ]
Nordman Fir Christmas trees are great. The tree is known for having a Christmas scent that is stronger than the other two.  It's also known for having a perfectly symmetrical shape and glossy dark-green needles. Despite the fact that the
Nordmann Fir's leaves are called "needles", they are actually quite soft to the touch, which makes the tree easy to decorate. Their soft foliage also makes it child- and pet-friendly.

You can pick it up (free) or have it delivered by a hard-working sailor ($40) - the delivery option will appear on checkout.

Trees will be available for pickup (or delivery if you choose that option) on Saturday, December 2nd and Sunday, December 3rd. We operate out of the 16th street (Davidson Field) parking lot. You will be getting email updates as the date gets closer.
Tree Review
LOVING IT!
Very fresh and full.
Will purchase one again next year!
Nordmann fir tree
I thought nothing could surpass the Noble fir tree, but I was pleasantly surprised at the beauty and fullness of the Nordmann fir.
Gorgeous Tree!
First year trying this… ordered a 9-10 ft nordman fir. Gorgeous and so easy and delivered. Now that the kids are older picking the tree isn't as much of a family event as decorating and this hit the spot!
Christmas 🎄
Our tree was so great, it lasted until the New Year.
Nordmann Fir Christmas Tree
Top quality!
The sailors that delivered were outgoing and helpful!! So thankful!! Our Xmas tree is beautiful , fragrant and hydrated!! We are very impressed !!
Great tree and service
This was such a great cause and the tree is beautiful! We will do again next year
beautiful tree
love my tree - its perfect….
First fresh tree in at least ten years
Our Nordmann fir tree is beautiful, fresh and smells wonderful. As I was not at home when the tree was delivered, I'd left directions on where to put the tree. Not only was the tree put in the tree stand the guys added water too. Glad we could help out NH boys and girls in their fundraising. Call me next year. Happy Holidays and a healthy 2021. Go Tars!!