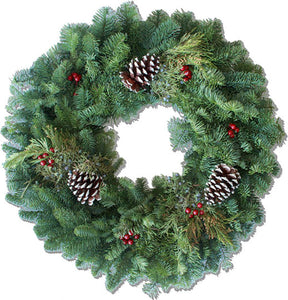 Noble Fir Round Wreath (24-inches)
Made fresh with premium Noble Fir boughs. Accents include Incense Cedar, Blue Berried Juniper, Red Berries and Frosted Pinecones. 24" diameter. Accent features may vary.
The Best
Every year I buy these and every year they're great. Wouldn't go anywhere else.
Gorgeous wreath!
Love our wreath - it's beautiful and fresh and looks great on our front gate.
Beautiful
Love our wreath. Easy drive through pickup!
Merry
Nice wreath-great delivery
Noble Fir Wreath
We really liked our wreath and we would buy another one again!
it was great, healthy, green and lasted
Best ever
I will be promoting these wreaths and Xmas trees to all my friends. The most beautiful tree and wreaths.
The best Xmas tree ever.
I was able to pick a tree and it was the largest and fullest Xmas tree I have ever had. In fact, I left the tree up until January 16th. I loved my tree. I still have a flower arrangement with a limb from my Xmas tree.
Fresh tree and wreaths!
Freshest tree and wreaths we have ever had. Will definitely buy again next year!
Great wreath Great price!
Love my wreaths. Will definitely purchase again next year!