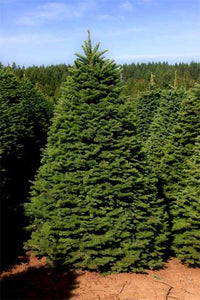 Noble Fir Christmas Tree
[ deadline to order is November 13th ]
Noble Fir Christmas trees are great. It's got a deep green look to it.  As a matter of fact, boughs of this tree are often made into fresh wreaths. The Noble Fir's branches are sturdy, yet the needles are not too sharp to decorate easily. Many folks like the Noble Fir's branches because they have ample spacing between them, so it's easy to hang lots of ornaments on them.

You can pick it up (free) or have it delivered by a hard-working sailor ($35) - the delivery option will appear on checkout.

Trees will be available for pickup (or delivery if you choose that option) on Saturday, December 3rd. We operate out of the 16th street (Davidson Field) parking lot. You will be getting email updates as the date gets closer.
Tree thin. Not as full as last year
Fantastic!
Tree is beautiful and so fresh! The boys are so polite and nice that deliver the tress! This is a wonderful service! Thank you.
Amazing Noble Fir!
What a treat! We received one of the best noble firs we've ever had. Definitely exceeded our expectations. Would highly recommend.
Pretty Good
The top of the tree is about 2 feet of just stem so the 9 ft tree is really 7 ft. Also, it arrived with a ton of dead pine needles and bugs ie. lady bugs, green beetles, and flying black beetles. I suggest cleaning out the trees prior to customer pick up and making sure the tree is the actual size ordered. This has happened 2 yrs in a row.
Beautiful Tree
Love it, very filled out and perfect !
Beautiful tree!
Soo grateful that the tree arrived & has met our expectations.
Noble fir 5-6 feet
Great tree, beautiful shape, very fresh, wonderful service at the pickup site. In the past we have received 7-8 ft. noble fir trees, this year the biggest size in any tree was 5-6 feet. Will order again next year.
Awesome tree, very pretty and very big which we wanted.
A great tree. Great workers. Very organized.