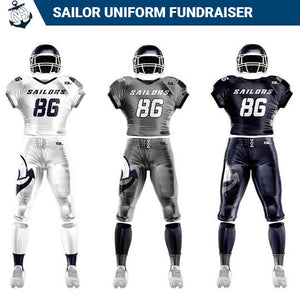 Game Day Uniform
Newport Harbor Football is looking to raise $38,000.00 the last $18,000.00 $16,000.00 $11,000.00 to purchase new Football uniforms for the 2018 season.
The jerseys the boys currently wear are "dated" and "tired"
... and we're NEITHER OF THOSE. As a matter of fact, we're quite the opposite. Newport Harbor has NEW ENERGY and the NEW UNIFORMS are a symbolism of this. Our fundraising efforts have gotten us about 50% there...
we still need another $11,000.00 to finish it off.
Check out this 54 second video.
Please consider "Outfitting a Sailor" and buying a uniform. And be sure to come and watch the first game, Friday night at 7pm (August 24, 2018). Thank you and Go Sailors!