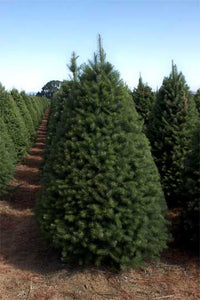 Douglas Fir Christmas Tree
[ deadline EXTEDNDED to order is November 12th - midnight ]
Douglas Fir Christmas trees are great. They are most known for its soft, shiny green needles. It can be more difficult to decorate (than the Noble Fir, for example) because the the branches can be sheared into a perfect conical shape, leaving little space between branches to hang decorations. It's "thick" and beautiful.  Our Douglas Firs will come freshly cut and it will keep well through the season.
You can pick it up (free) or have it delivered by a hard-working sailor ($40) - the delivery option will appear on checkout.
Trees will be available for pickup (or delivery if you choose that option) on Saturday, December 2nd and Sunday, December 3rd. We operate out of the 16th street (Davidson Field) parking lot. You will be getting email updates as the date gets closer.
Tar Tree
Nice little tree for a very good cause.
A little fun of 2020
the delivery was timely and easy.
Douglas Fir Christmas Tree
The Christmas tree I received was not what I expected. The trees in the pictures were full, the one I received was not full.
Douglas Fir Christmas Tree
Awesome Quality
Another great Christmas tree provided by the NHHS Football team. The quality is excellent and fits nicely in the living room.
Love it
It was delivered promptly and it's a beautiful tree. We're very happy. It was bigger than expected, but now I never want to go smaller
Incredible Tree
This is our second year ordering from Newport Harbor and the trees are wonderful. The delivery service is my favorite part. Thank you for making this so easy for us! We will continue to support NHHS Football.
Second year and very happy again!!
We're not sure we'll ever buy a tree from anywhere else again! We love that we get to help our district school, send a tree to a soldier, and get it delivered and set up by some very well-mannered Sailors. So very happy!
Beautiful, long lasting tree
We have bought trees from local options for the last few years, this one was by far the best quality and looked beautiful while supporting our awesome team. Will definitely use again next year!