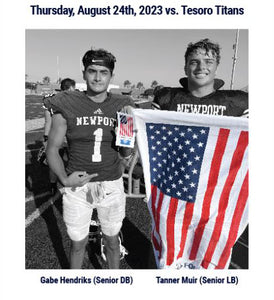 Beach Towel + VIP Ticket to Home Opener $50.00
$50.00 Home Opener VIP Tickets and Fundraiser.
Support Newport Harbor Football.
Don't wait in line at the gate.
Get an awesome beach towel (shipping is extra).

This offer is for Thursday's game (Aug 24th) - our home opener. Game is at Davidson Field and kickoff is 7pm.
towels not shipped, challenges getting into the game 10 minutes after the start
Great game...Sailors one at the last second. Unfortunately, I was almost unable to get into the game because the team leading these tickets had left prior to my arrival, about 10 minutes into the game. Luckily, the person at the gate understood the people manning the table had left before I arrived. I paid to have the towels to be shipped to my home and still have not received them. I am happy to support our local high school, and still hope to receive the towels for the 2 tickets I bought. Go Sailors!
fundraiser
Nice towel and great idea with the ticket!